SCHMUCK No.3, Juni/Juli 1997

An English translation of the article "Mit dem Verstand der Hand" follows below. By Bianca Bach
When Dutch silversmith Jan van Nouhuys designs his objects, his "manual intellect" is at work.
Asked to describe the process that results in the vases, teapots and bowls whose sharply modeled lines strikingly contrast with their soft, bulbous shapes, Dutch silversmith Jan van Nouhuys says, "The understanding observes, but the hands bestow the form."
His objects bear eloquent witness to the dynamism involved in the process of sketching and designing. "When I'm working on a particular object," van Nouhuys explains, "I can never be sure if the final result will correspond to the original idea. During this phase of my work, I'm involved in such an intensive dialogue with the materials that they seems to take on an independent life of their own." Of course, van Nouhuys is also well acquainted with the more pragmatic style of working, with the step-by-step process of drawing a detailed sketch on paper and then taking tools and materials in hand to materialize that sketch as accurately as possible. "But the results of that style of working are entirely predictable," van Nouhuys notes. "I could even give my sketch to another artisan and let that person take care of actually crafting the object." It's obvious that this experienced silversmith prefers to trust his own intuition - and to trust in the unpredictable elements of chance and good fortune - which he believes are essential for the succesful realization of any sketch.
"Every Object is a Creative Adventure"
Asked how he arrives at the characteristic shapes which leave no doubt that each particular artifact is the work of Jan van Nouhuys's mind and hands, the designer refuses to commit himself. "I don't allow myself to be exclusively led by any single intellectual concept or any single spontaneous inspiration. Every time I make a piece, I must allow myself to become involved in a new creative adventure." Likewise unconventional are the ways van Nouhuys uses to bring the silver into its desired shape. The four containers called "Chatting Jugs," for example, developed from two basic forms, each of which began with a round base and culminated in a square. The next step was to sever them along a vertical axis, thus creating "four halves" which served as the starting point for yet another phase in the design process. The final result of van Nouhuys's efforts is a "family of products" which lets each jug preserve its own individual appearance. One container is elongated and slender, another is squat and bulbous, a third features distinctive lines, and the fourth one displays gently rounded curves.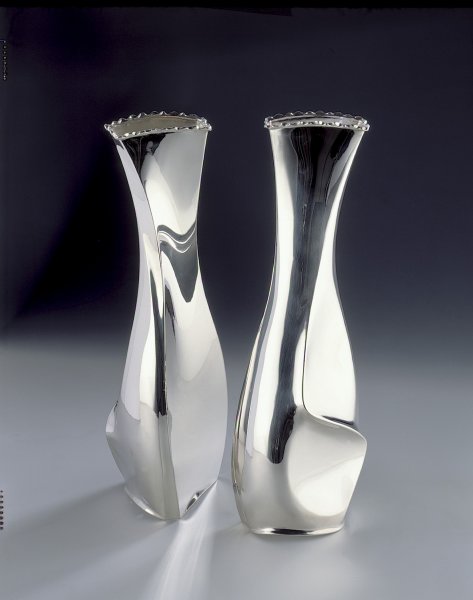 Van Nouhuys begins with geometric shapes as the basis for his inspirations, then sets his mind and hands to the task of imbuing a "soul" in each simple shape, for example, imparting a "soul" to an unadorned cube. But shapes which Nature has sculpted can also function as the godparents of van Nouhuys's designs. Some examples of such natural forms are the wave motions in a body of water which the artist observes, copies, and adapts, or the graceful structures which wind draws in sand. Some of van Nouhuys's vessels might remind their beholders of flowers which are about to unfurl, but van Nouhuys is content simply to create the dsigns : he prefers to leave the poetic associations up to the imagination of the beholders. Trained as a goldsmith, van Nouhuys has since devoted himself exclusively to working with silver, although he occasionally integrates wooden, glass, or even corroded iron elements into his silver jugs and carafes. Silver reminds him of a pure, white, unwritten sheet of paper. He is unabashedly passionate about his love for this precious metal : he admires its sheen, enjoys its pleasant feel, and above all exults in the ways it reflects incident light.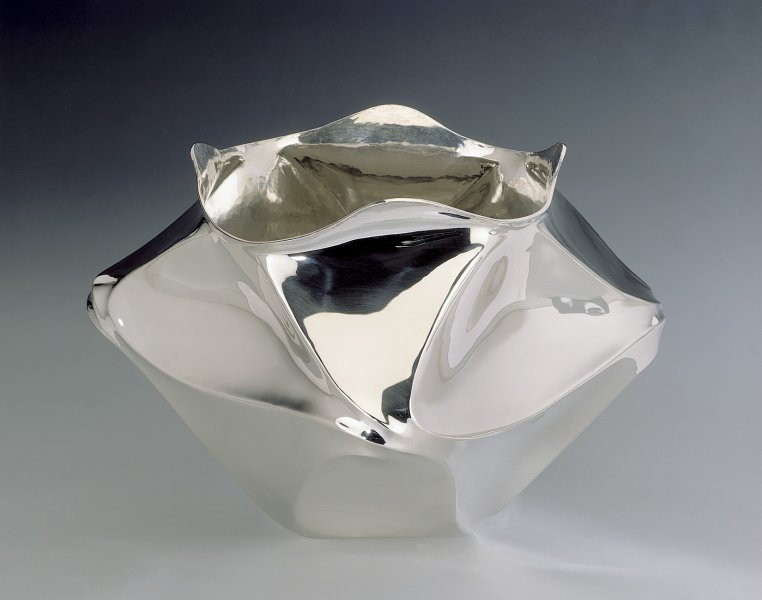 The "Baroque" van Vianen
Products crafted by van Nouhuys are likely to provoke astonishment for several reasons. First, there's the bewildering play of lights and shadows upon the mostly uneven surfaces with their numerous depressions, bulges and edges. Then there's the way he combines soft and flowing elements with hard and sharp-edged components. But above all, it's the proportions of his big-bellied carafes with their sometimes excessively long necks that surprise the beholder. And precisely here is where van Nouhuys invites us to delve with him into the history of the silversmith's craft and rediscover Adam van Vianen, a Dutch silversmith who was well known during the 17th century. Jan van Nouhuys spent several years researching the history of Baroque silver, and he devoted special attention to Adam van Vianen. That research would ultimately come to exert a visible influence on van Nouhuys's own creative work.
For example, some of van Nouhuys's jugs culminate in the same beak-like spout that can also be seen on many of Adam van Vianen's vessels. Both silversmiths place a great deal of emphasis on clear limits and rigorous construction; both craftsmen consciously choose to do without obvious tectonics; and the work of both artisans reveals their penchant for soft yet powerfully sculptured shapes. And van Nouhuys shares another trait with the master silversmiths of the Baroque era : he frequently indulges his propensity for deliberately disproportionate designs.

Silver in Motion

Translating the Baroque formal idiom into a contemporary stylistic vocabulary is only one aspect of van Nouhuys's creative work.
Always eager to encourage talented younger silversmiths, in 1990 van Nouhuys launched a project called "Zilver in Beweging" ("Silver in Motion"). He also helped organize a silversmith's workshop in New Delhi, India. Both of these projects enabled him to exert a positive influence on international contemporary silver, an artistic genre which, he believes, is comparatively underdeveloped and which has thus far attracted the attention of only a relatively small audience of aficionados.
Whenever the opportunity presents itself, van Nouhuys also enjoys collaborating with designers from other disciplines. Two years ago, for example, he met industrial designer Mick van Ooy, who invited him to craft a collection of silver based on van Ooy's own designs. Van Nouhuys's encounter with painter Jef Huibers likewise developed into a fruitful collaboration. Looking back on his work with those two people, van Nouhuys says, "I always learn a great deal whenever I craft pieces based on sketches drawn by another artist or designer. It offers us both a chance to engage in a very useful dialogue."
"Taking part at the PAN art and antiques fair in Amsterdam was a break-through for me," van Nouhuys recalls. Because he usually sells his work directly from his atelier in Schoonhoven, showing his creations at PAN marked the first time that he came into direct contact with a broader public of potential buyers with plenty of money to spend. The PAN trade fair also meant breaking out of the self-imposed "creative isolation" (interrupted only by occasional collaborative projects with other individual artists) in which he has labored for more than seventeen years.
Van Nouhuys is eager for dialogues of all sorts: with the past, with contemporary artists, and last but not least, with people who are interested in the objects he makes. That's yet another reason why his silver objects are not sold in galleries, but are only available directly from the silversmith who designs and makes them. That way, van Nouhuys adds, he always has an opportunity to enjoy chatting with the people who come to visit his atelier.